Mammoth Lakes is beautiful and high. Trails and campsites often exceed 10,000 feet in elevation, testing fitness and decision-making. The original plan for a Labor Day weekend backpacking trip looked straightforward on the map, but brought some challenges.
Route Summary
Distance: 12.58 mi
Ascent: 2,954 (-2,916)
Day 1:
Day 2:
From Deer Lakes to Duck Lake via Mammoth Crest Trail
Duck Lake to Duck Lake Pass Trailhead via Duck Pass Trail
Day 1
We knew we'd meet holiday weekend crowds, so arriving at 8am made parking in the large lot at Horseshoe Lake Trailhead easy. Hiking began optimistically.
Clear signs at Horseshoe Lake guide to McCloud Lake. From here, the plan was to connect to the Mammoth Rim Trail by going counter-clockwise around the lake and then south and west to the trail. But we couldn't find the trail indicated on our map, so we decided to navigate our way off-trail. This was a regrettable decision.
While under forest cover, climbing was steep, but manageable. We attributed the difficulty to carrying fully-loaded packs and to the elevation. Once out of the forest, it got hotter and the terrain looser under foot.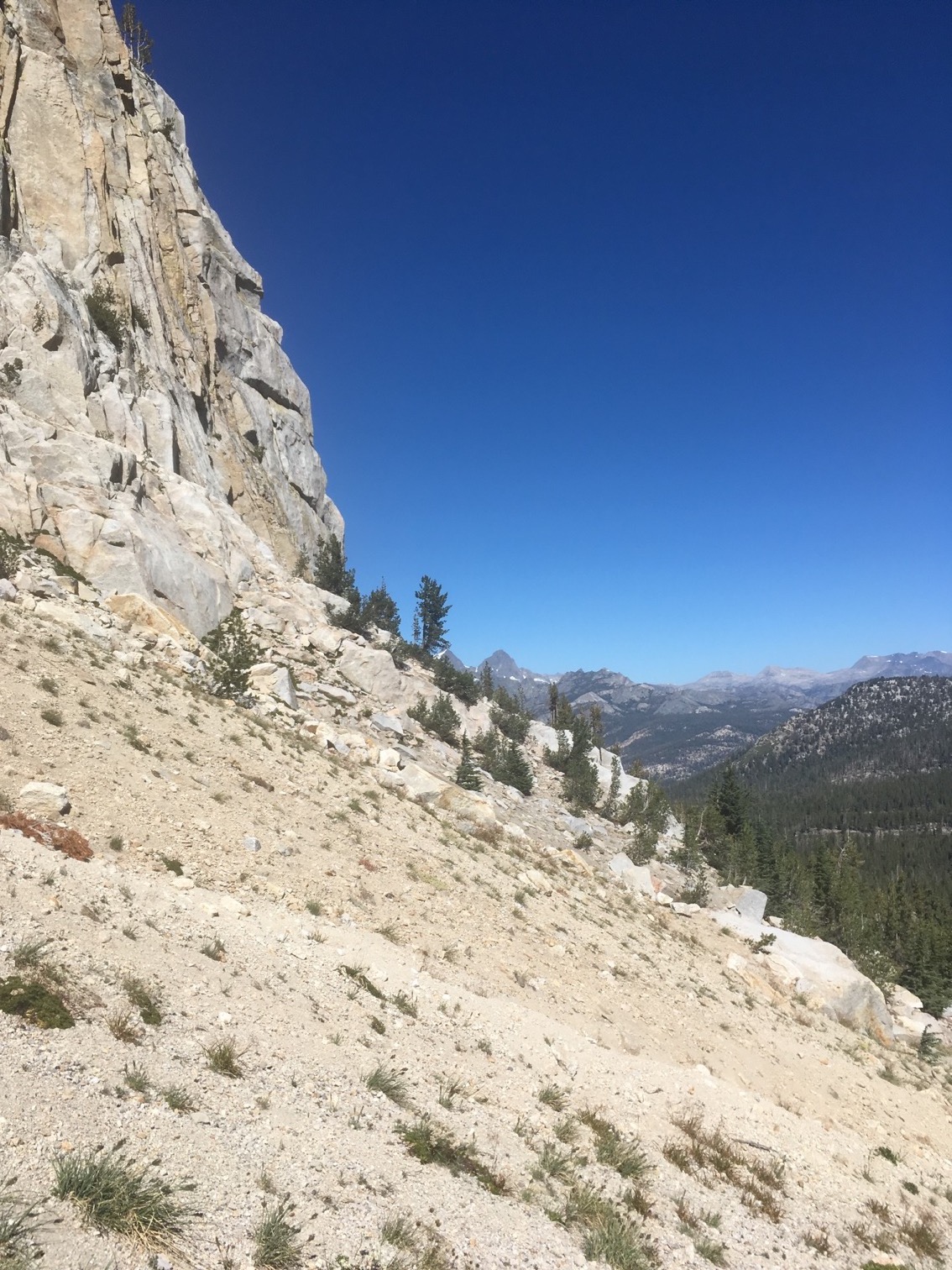 Mammoth Crest loomed ahead; that should have been a warning sign. Knowing we wouldn't be able to climb directly up and over it (having no rock climbing equipment or skills), we expected to find a path around or connecting to the trail. We continued, turning south at the base of the crest and hugging it towards the southwest.
Relief for the dog was any shade and the large patches of snow still remaining.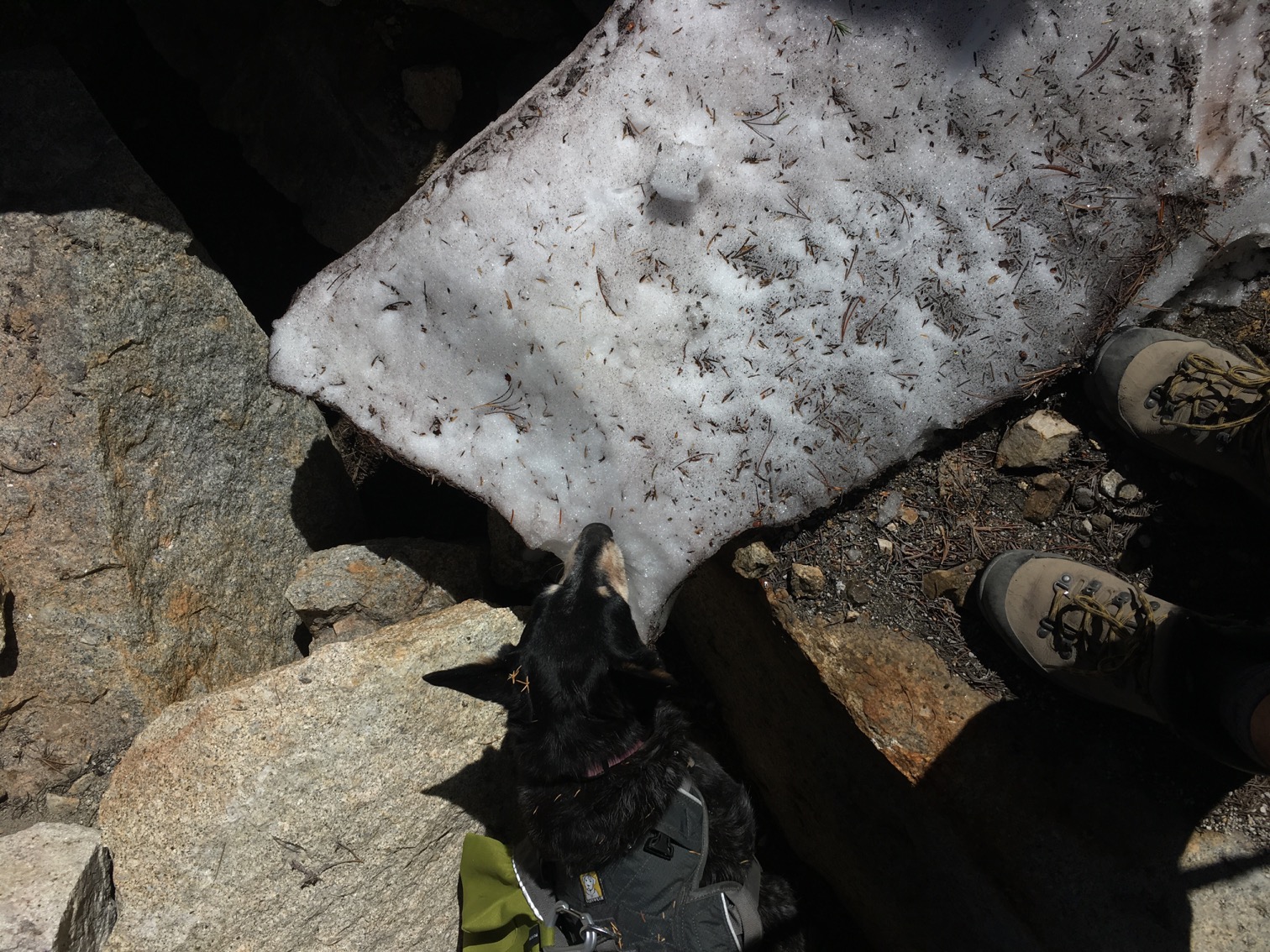 Fields of large boulders scattered about required departing from a straight path along the base of the crest. The steep angle and scree, combined with the heat, made progress slow. I slipped and tumbled on the slope, rolling and feeling the weight of my pack drive my momentum. Stopping after one roll, I realized how lucky I'd been to have minor scratches to my hiking poles and camera, and no injuries.
After the slip I hiked cautiously, and was also determined to get onto the Mammoth Rim Trail as efficiently as possible. What appeared to be a use trail or at least a slightly worn footpath appeared ahead, and we decided to use it to connect to the Mammoth Rim Trail. That path was steep and slippery, but it offered a clear way out of what had become an unnerving situation.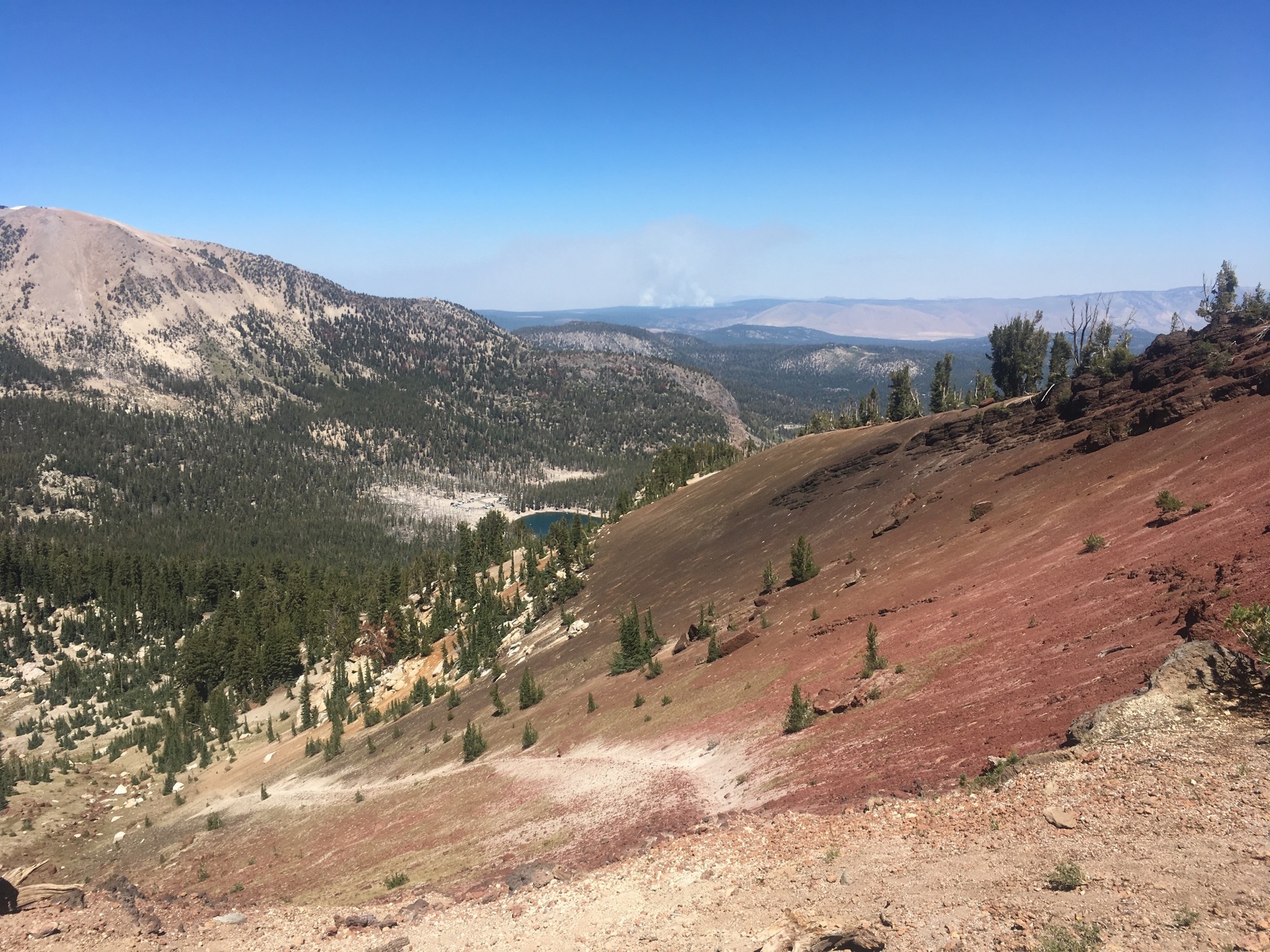 Elevation: 10,331 ft.
Relief came as we joined the Mammoth Rim Trail and felt surefooted walking on a proper trail.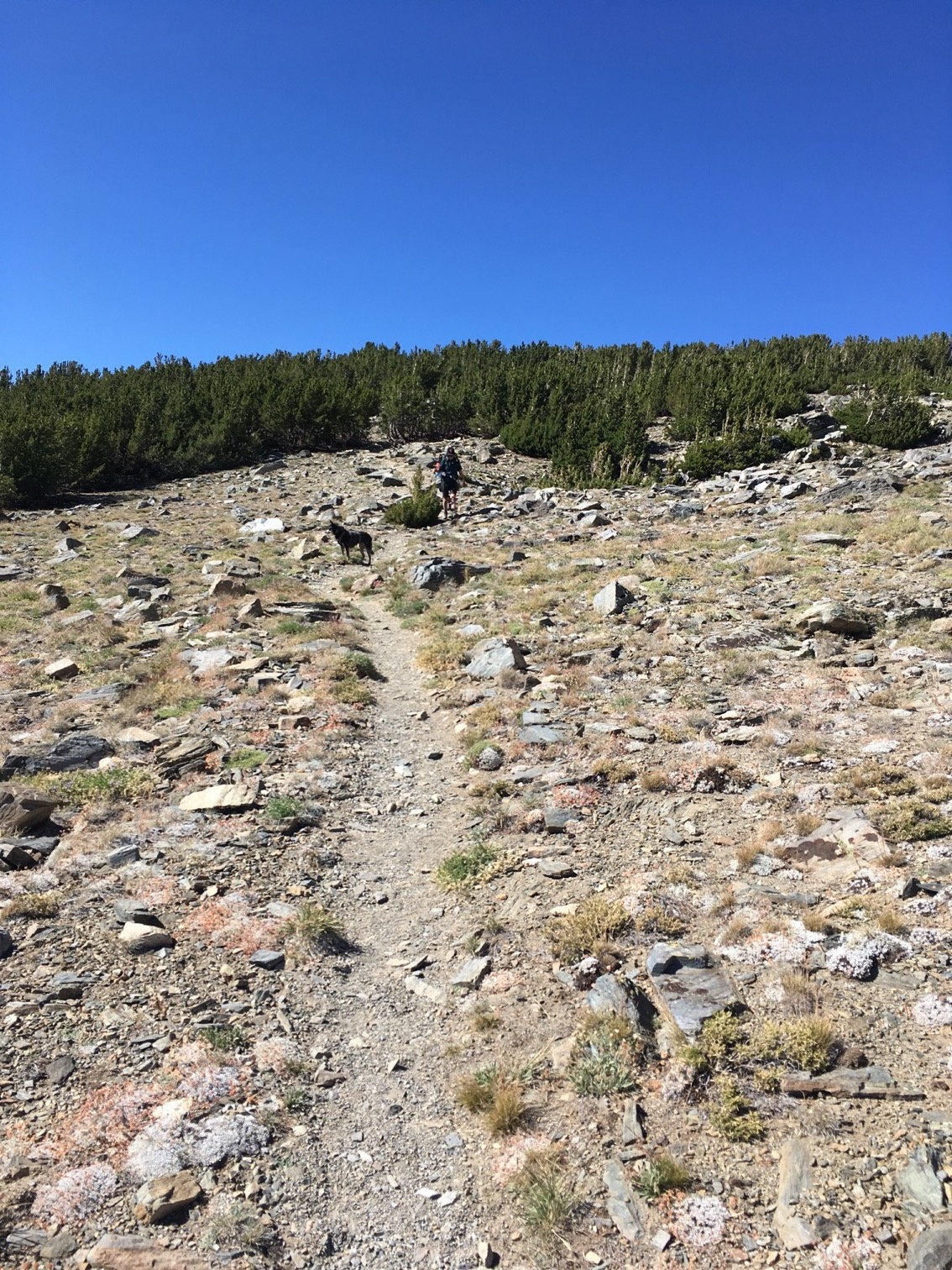 Mammoth Rim Trail
And views from the trail didn't disappoint.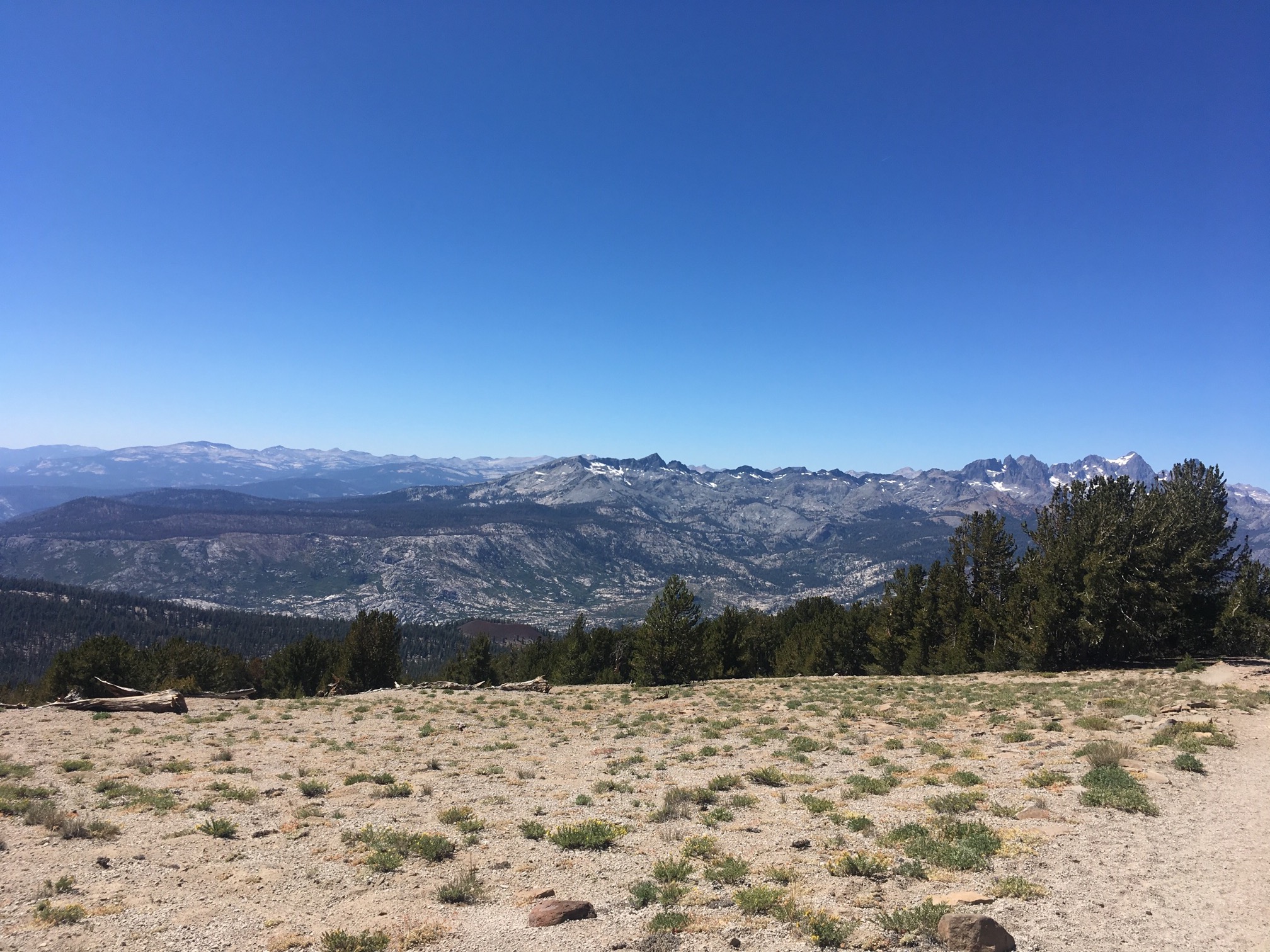 Elevation: 10,494 ft.
Looking down from about 1,000 feet above Hammil Lake.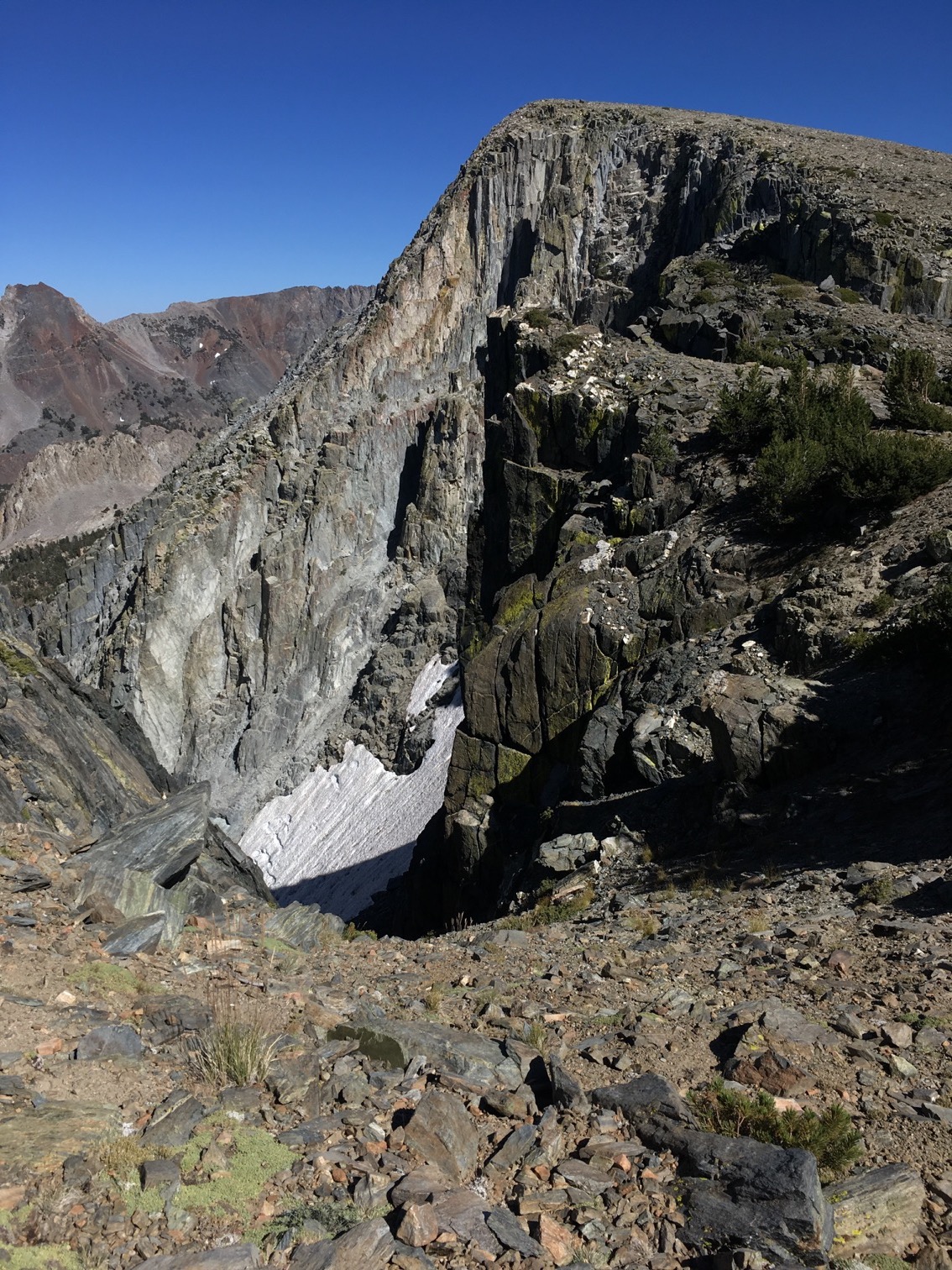 Elevation: 11,187 ft.
Our high point reached about 11,200 feet, and from descended to Deer Lakes, a group of three lakes nestled among large rock faces. The most prominent might be Blue Crag at 11,669 ft. We camped at Middle Deer Lake directly across the lake from Blue Crag. We met only one other group at the lake, a friendly trio who were on an extended trip. At night, echoes from coyotes wails bounced around the rocks, startling the dog.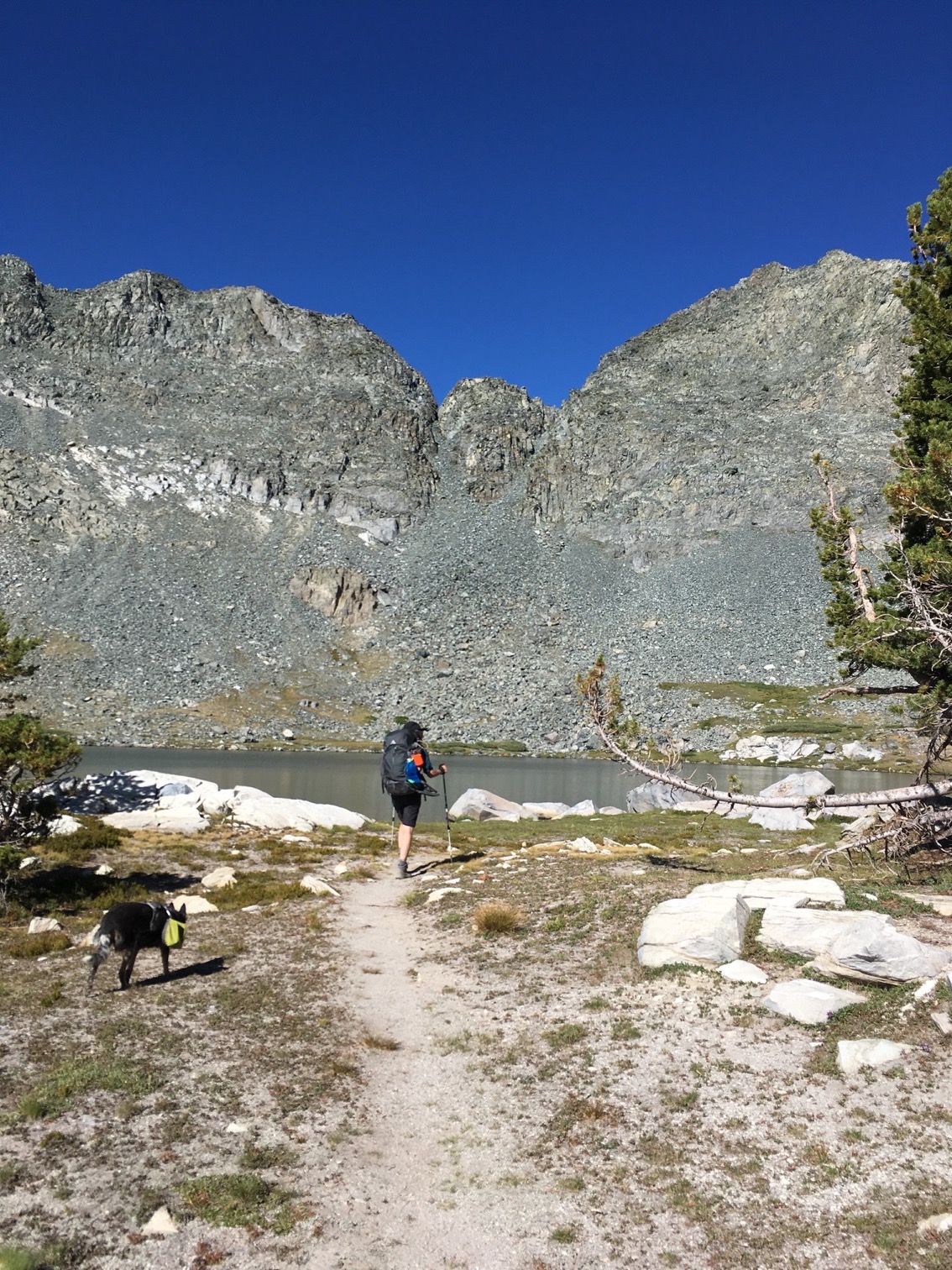 Arriving at Deer Lakes. Elevation: 10,713 ft.
---
Day 2
In the morning we continued southeast, passing the easternmost Deer Lake looking for the trail towards Duck Lake. But the route wasn't clear. We knew the trail cut towards the east, but couldn't understand how to get over the steep ridge. Passing the southern end of the lake, I scampered up a steep, rocky slope to investigate. Partway up and not finding any route, reason returned and I decided to stop climbing higher or I'd risk getting stuck. We backtracked to the edge of the lake, where we met two individual hikers searching for the same route to Duck Lake. We compared maps and one went off to search for it, shouting back to confirm the trail was usable.
The lower loop in this map view shows the route I explored and abandoned. The correct route is the one leading due east.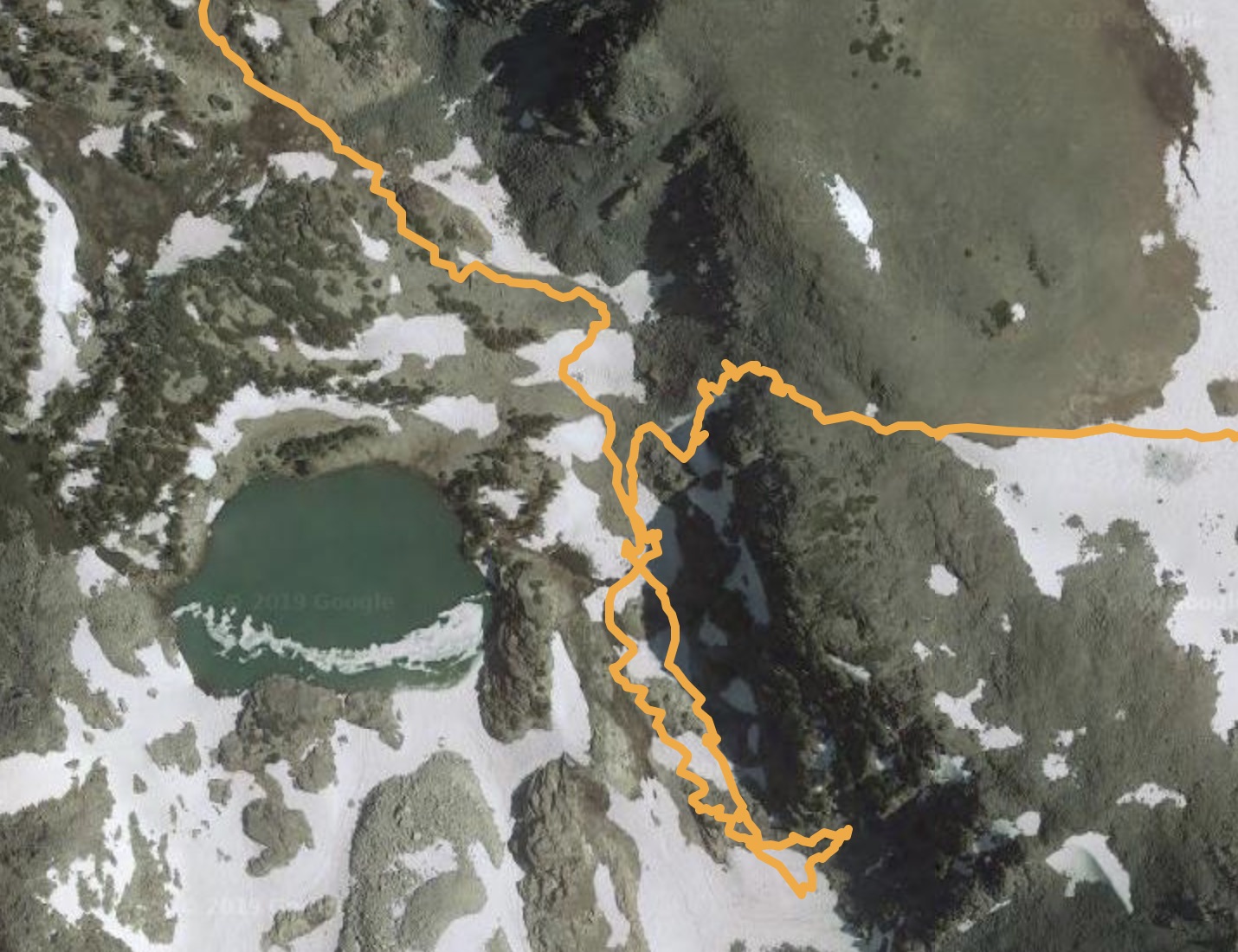 In retrospect, perhaps we should have found the trail more easily. Articles about this route noted this:
Continue along the middle lake and steadily ascend again. At this point, the trail becomes less defined, but is still recognizable most of the time. Once you reach the southeastern lake, do not continue further south, but stay on an easterly direction up a fairly rocky slope. Several maps show Mammoth Crest Trail heading further south and then up an extremely steep slope. That is not the trail.
Part of the loop between Deer Lakes and Duck Pass travels along a use trail/route, which can be difficult to follow at times…At the upper lake, look for an obvious saddle on the ridge at the northeast end of the lake. Climb the steep talus slope to the saddle. There are a few vestiges of a use trail going up the slope.
To your left is a steep slope covered with boulders. You can scramble here, but there is a much easier way up. If you look to the left of the lake, you will see what appears to be a trail. To reach this trail you need to descend toward the lake and then head to the trail. This trail is well defined all the way up to the top of the steep climb. It's also very steep.
A view from partway up the use trail looking down to Deer Lakes: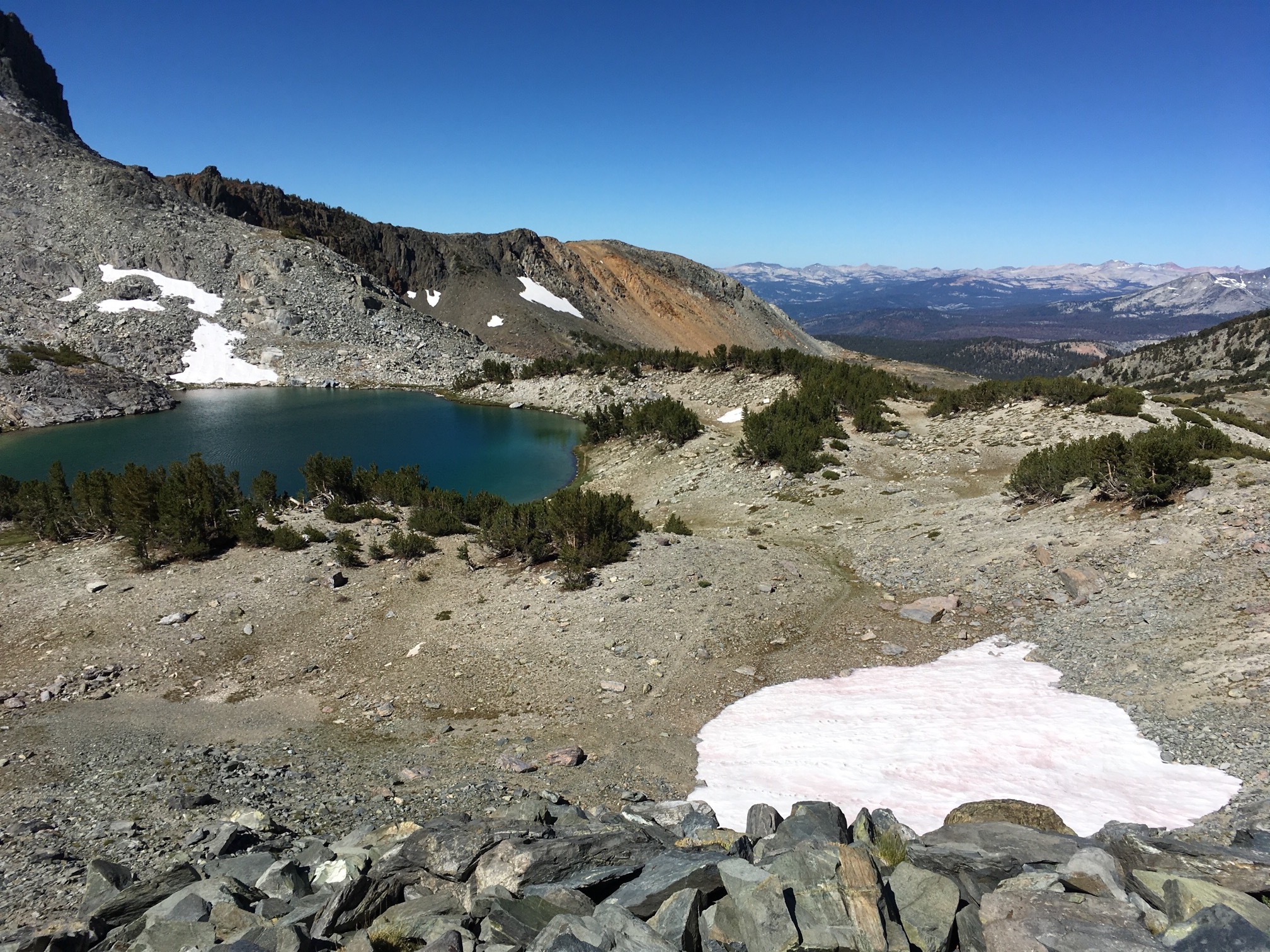 Elevation: 11,014 ft.
Even knowing this and using GPS, finding the trail proved difficult. Decision-making at 10,900+ feet seemed less than clear.
Again, we felt relief as we joined a well-worn trail, and even though the trail was difficult to follow at times, the terrain was easy to manage. Once within a few hundred feet of the Duck Pass Trail, crowds increased. Everything seemed busier and louder, noticeably different from the afternoon and evening at Deer Lakes. But the view of Duck Lake doesn't need description: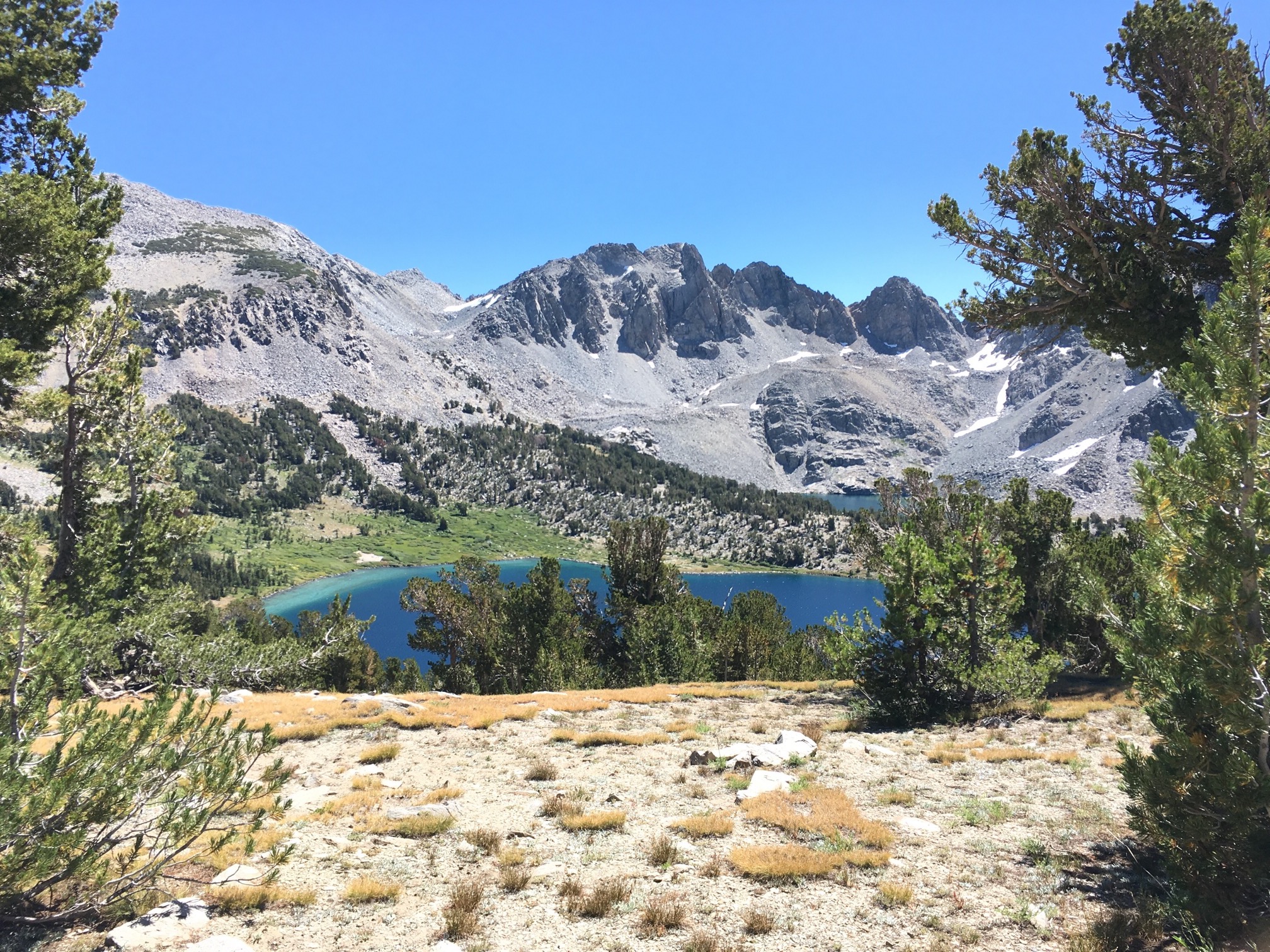 Elevation: 10,877 ft.
Our original plan included camping at Duck Lake. We skipped that, preferring not to jostle for a campsite among many groups and instead descended 7+ miles to Duck Pass Trailhead at the edge of Cold Water Campground.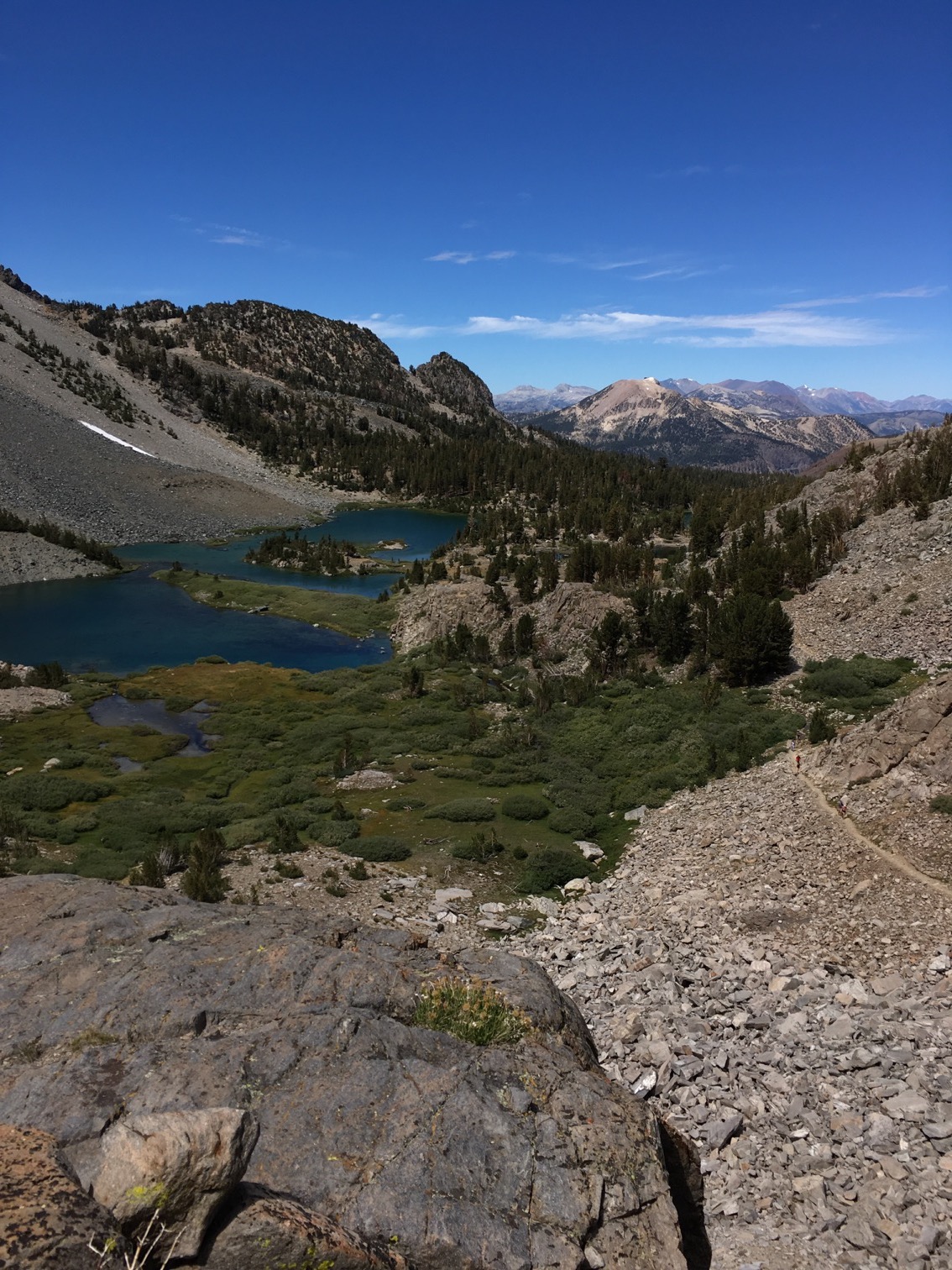 On the descent from Duck Lake Pass
We arrived at Duck Pass Trailhead at 2:45pm. A kind couple we met on the descending trial gave me a ride back to the Horseshoe Lake parking lot, saving me walking 2+ miles. With clear weather, the drive back to San Francisco was painless.
---
Effects of Altitude
After the trip, I wondered if altitude affected our decisions or if something else went wrong. Insufficient planning and research? Poor map reading skills? Stubbornness?
I found this book via the National Center for Biotechnology Information, U.S. National Library of Medicine:

Marriott BM, Carlson SJ, editors, Nutritional Needs In Cold And In High-Altitude Environments; Applications for Military Personnel in Field Operations, Institute of Medicine (US) Committee on Military Nutrition Research, 1996
Some selections from Chapter 22: "The Effect of Altitude on Cognitive Performance and Mood States"
"At 4,300 m (14,110 ft), moods differed from baseline (200 m [656 ft]) on the day of arrival (day 0) and differed even more after 1 day (Figure 22-1). Subjects became less friendly, less clear thinking, and dizzier."
"Most investigations have shown decrements in cognitive performance beginning at an altitude of 3,000 m (9,843 ft) (Bahrke and Shukitt-Hale, 1993; Tune, 1964)."
"Cognitive performance was significantly impaired on 8 out of the 10 performance measures. Even on relatively simple performance tasks—such as simple and choice reaction time—as well as complex tests of cognition—such as the addition test—impairments occurred in a graded manner."
I'm not sure what effect altitude had during this trip. I've hiked at high altitude before, in the Indian Himalayas with passes exceeding 14,000 feet. While I did get some altitude sickness, I don't recall such an impact on mental facilities. But that was years ago, and I was in better physical shape.