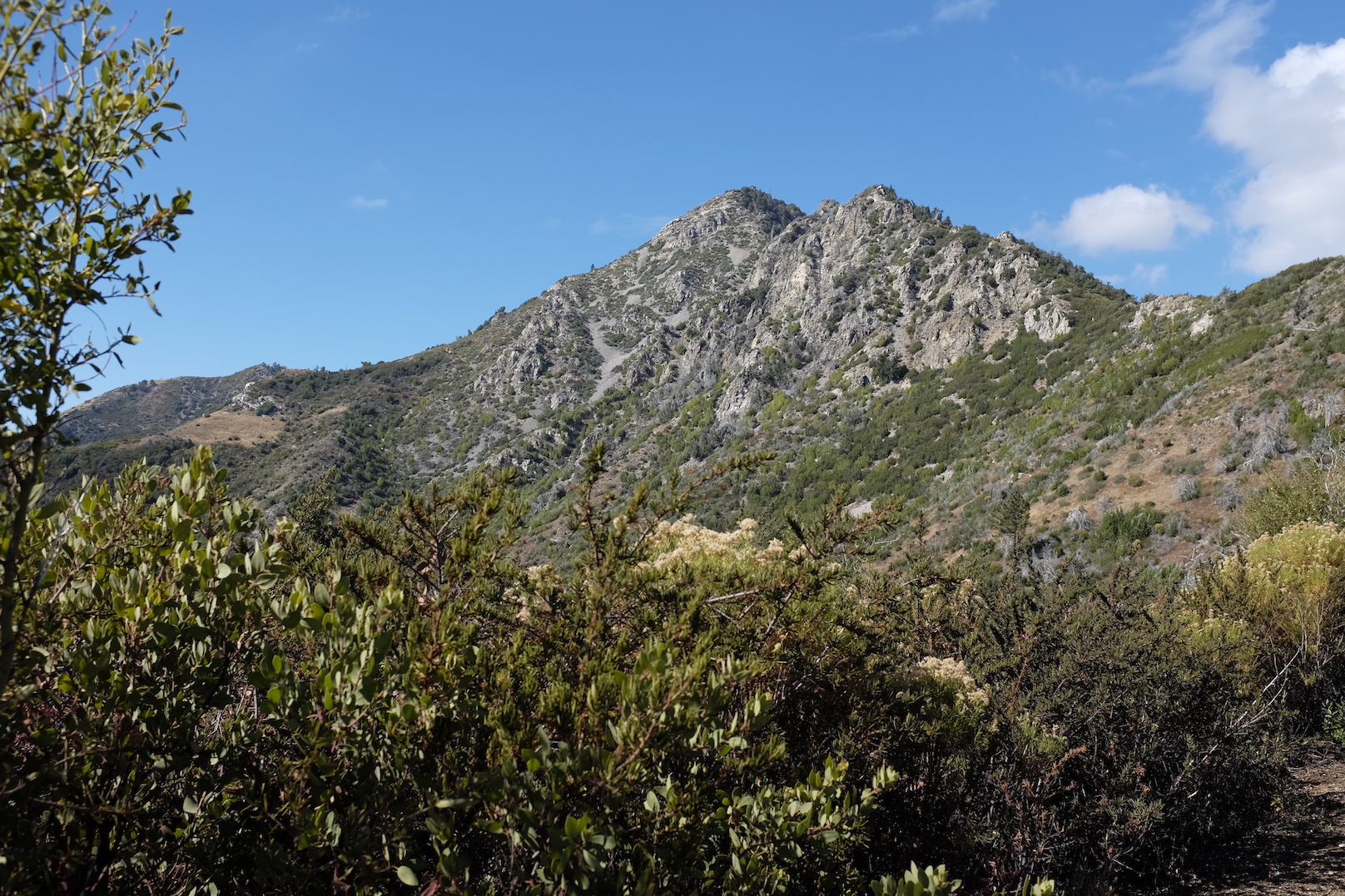 Part of the Los Padres National Forest, the Ventana Wilderness feels remote, shows off incredible views of the Pacific coastline and the Santa Lucia mountains, and contains a quite varied environment. It's close enough to the San Francisco Bay Area to be accessible for one– or two–night outings.
At 5,164 feet, Cone Peak overlooks the ocean from just 3.2 miles off the coastline. Cone Peak is ringed by a few campsites and is a highlight of the Ventana Wilderness — and recent repairs to surrounding trails have improved accessibility. The ascent to the peak is steep enough to present a bit of a challenge, but not so steep to trigger regret when carrying a backpack and a day's supply of water.
We spent two nights in the Ventana Wilderness, making it up to and then around Cone Peak. We left the San Francisco Bay Area on an October Friday morning and arrived at the trailhead by 1pm. We followed this route:
Day 1: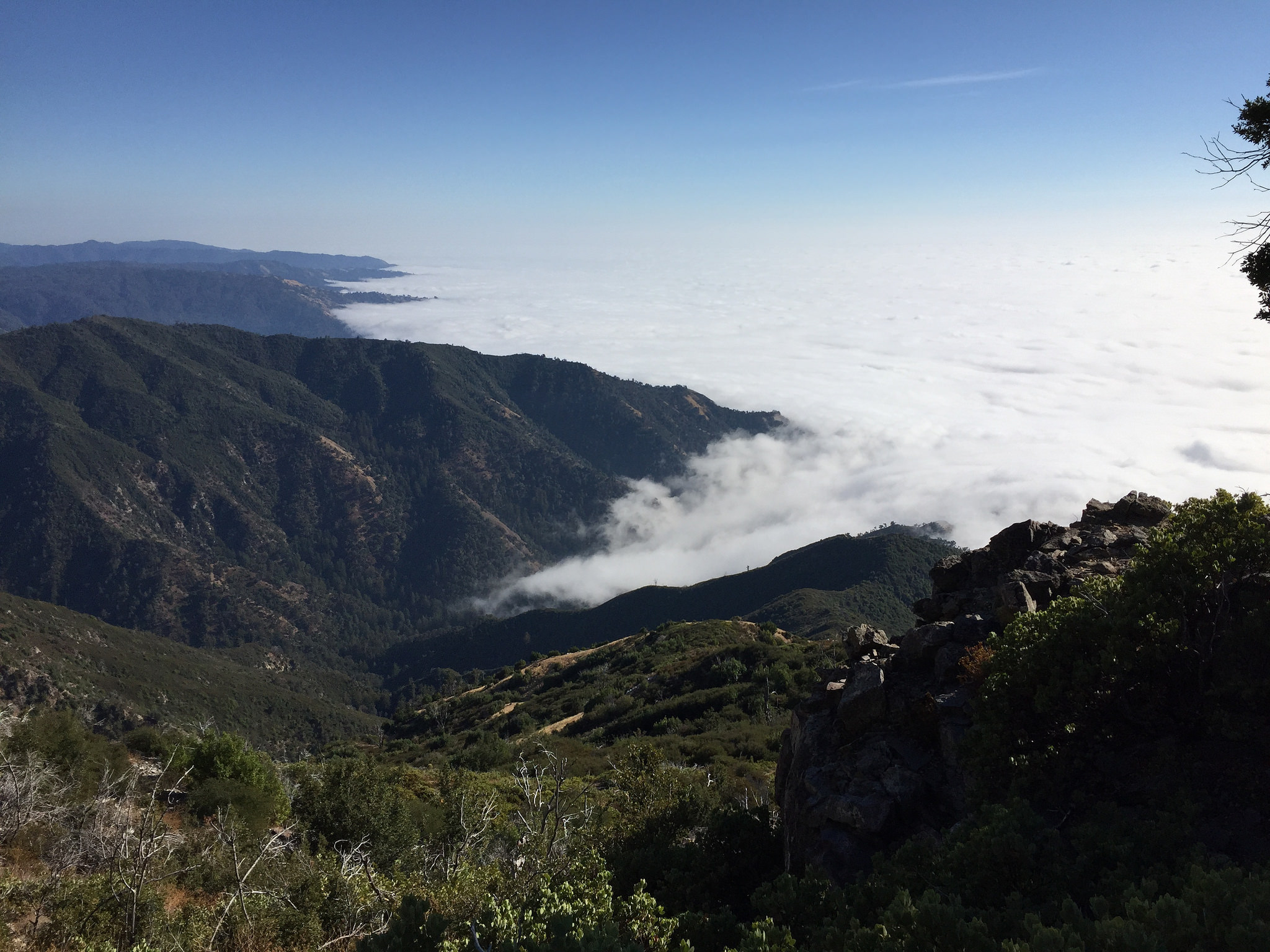 Drive to the west end of Nacimiento-Fergusson Road at Highway 1 near Kirk Creek Campground or the east end of the road at Fort Hunter Liggett.
Take Nacimiento-Fergusson Road to unpaved Cone Peak Road (watch for signs for Cone Peak and the road, also called Coast Ridge Road), and drive ~5.5 miles north. Note Cone Peak Road is closed due to weather during the rainy season. Park near the Cone Peak trailhead or alternatively closer to the Vicente Flat trialhead, on Cone Peak Road about one mile before the Cone Peak Trailhead.
Take Cone Peak trail to Cone Peak, then down to Trail Spring Campsite and onto Gamboa trail.
Follow Gamboa trail to Goat camp for the night. We chose this site because there's usually water flowing from a stream about a quarter of a mile away. In the 2015 California drought, water access was especially important for a multi–day trip. If you're planning to go during the dry season, check for water condition reports on the Ventana Wilderness Alliance forums.
Time: 05:51:11 hours, though we backtracked at one point and hiked about a mile more than necessary
Distance: 8.98 miles, including the backtracking
Ascent: 1,859.32 ft
Min/max altitude: 2,467.18 ft / 4,801.25 ft
Day 2: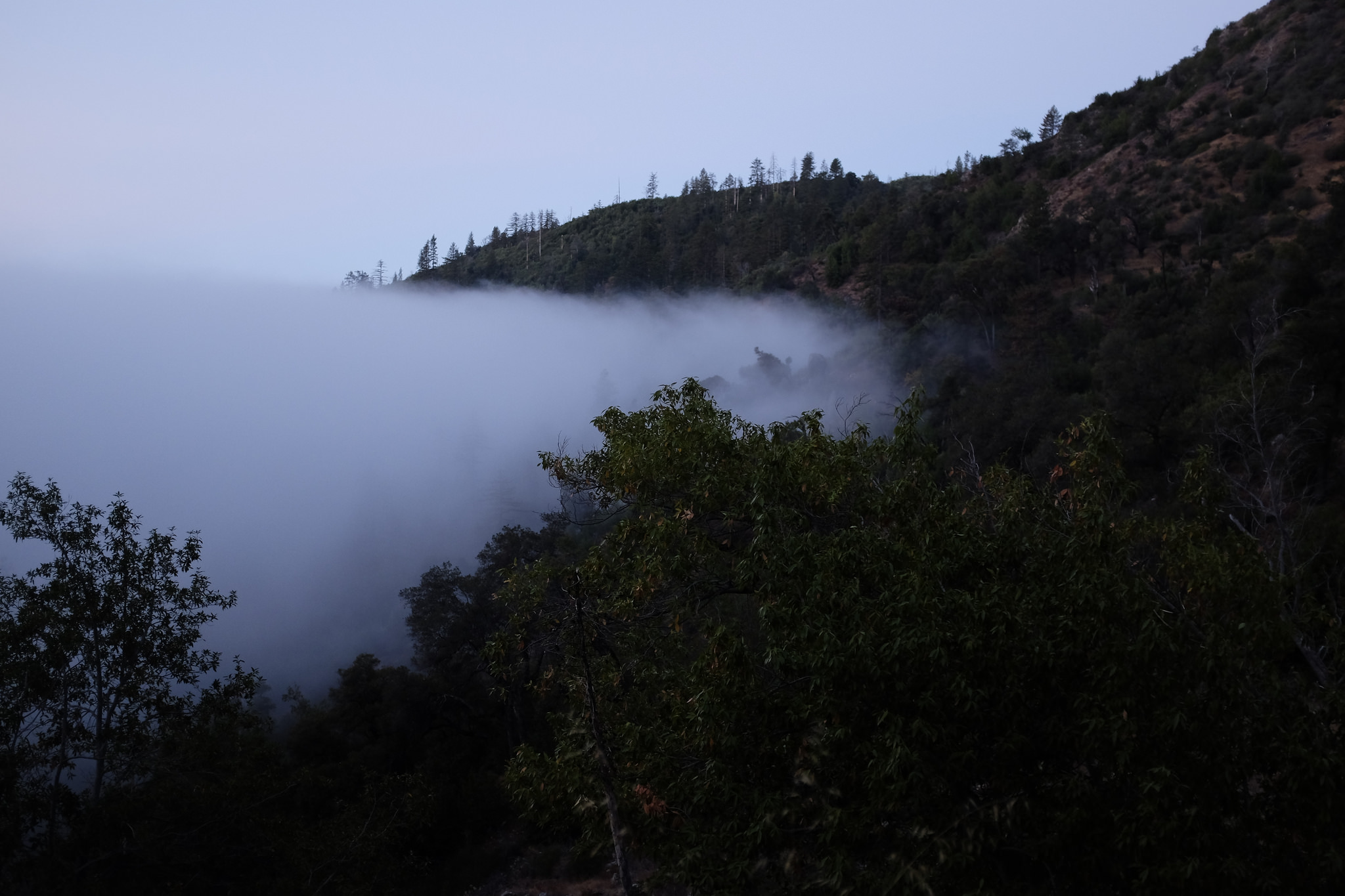 Hike from Goat camp to Vicente Flat trail
Take Vicente Flat trail to Vicente Flat campground and camp there. Note there is usually water about a half mile from the camp site.
Time: 07:32:24 hours
Distance: 8.23 miles
Ascent: 1,365.82 ft
Min/max altitude: 1,527.11 ft / 2,553.76 ft
Day 3 (half day):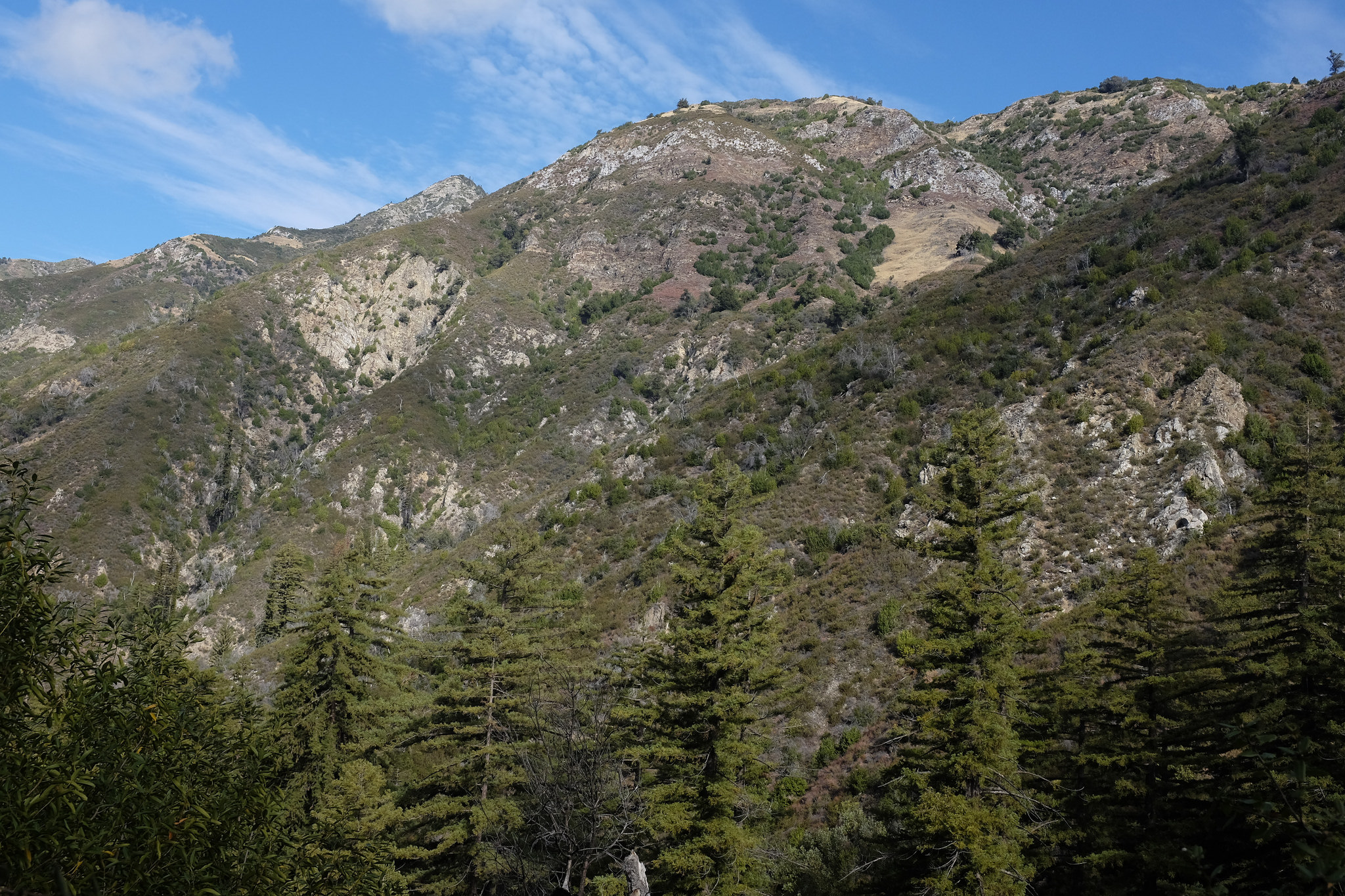 Hike on Vicente Flat trail from Vicente Flat campground to Cone Peak Road and back to the car
Time: 02:09:32 hours
Distance: 3.32 miles
Ascent: 1,845.56 ft
Min/max altitude: 1,602.94 ft / 3,332.28 ft
I used the Gaia GPS app on my iPhone to track our progress, and then exported the GPS data points into a custom Google map:

You can download a zip of my GPS files exported by the Gaia app.

We met few people along the trail, and we were the only ones staying at Goat camp on the night of Day 1. All along, we enjoyed solitude and only the sounds the forest and ocean wind brought us.
It took some time to piece together the information needed to plan this route. There is a lot of information online, but much of it is more than five years old. The sites below were some of the most useful for planning, especially for finding water sources and picking campsites:
An important tip we learned from the Ventana Wilderness forum was to bring mosquito head nets. Many large and pesky flies were thwarted by our nets as we continued along our way in peace.
At Vicente Flat campground we met volunteers who maintain the trails, clearing fallen trees, making sure signs and paths are easy to see, and putting in hard physical labor so that everyone can enjoy the forest. As we planned our route, we learned the trail conditions have varied quite a bit over the years, and in recent years roadblocks have been removed and the trail has been easier to follow in areas where previously one might have lost it.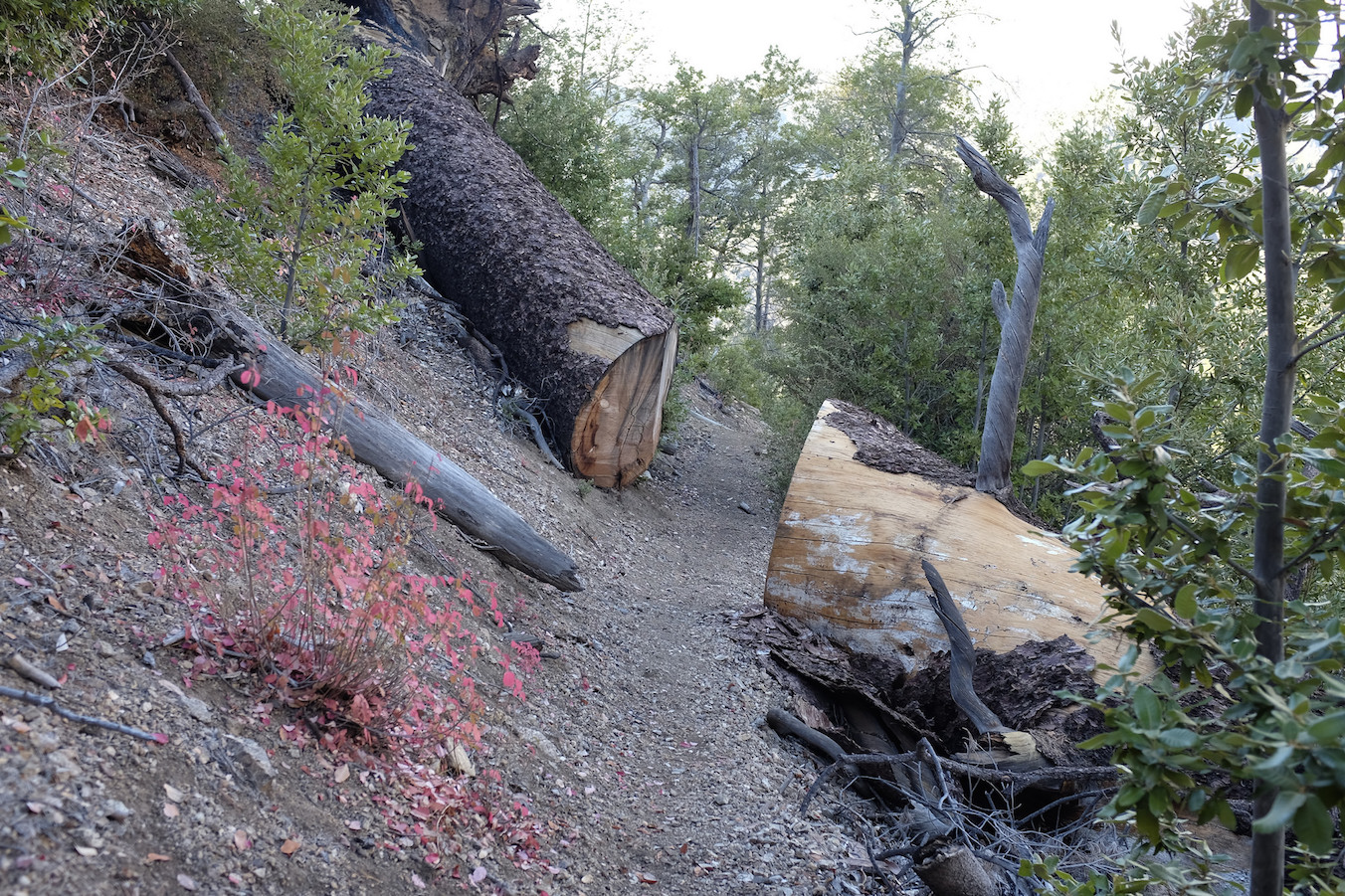 I'm really grateful that the Ventana Wilderness is available to anyone, and for volunteers who keep it so accessible. I donated to the Ventana Wilderness Alliance and if you've enjoyed the forest, you might consider doing the same.